Energy management and consulting firm, Affordable Gas + Electric, celebrated the completion of an industry leading solar development in Griggsville, IL.  The solar development is believed to be the "first-use of its kind" to power a feed mill operation owned and operated by the third largest pork producer in the US, family owned The Maschhoff's.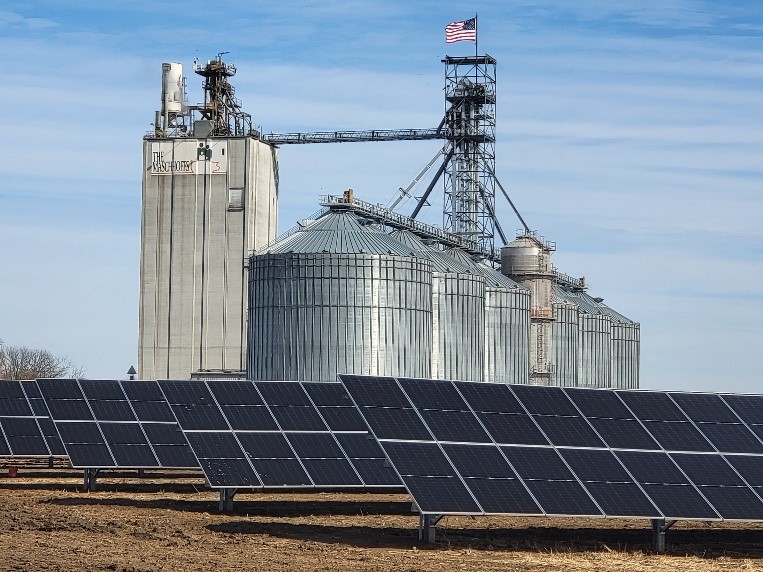 The 11 acre, 7000 panel solar array will generate 3.06 megawatts of electricity, providing roughly 56% of the energy consumed by the facility.  First year savings is expected to be over $320,000.  Additionally, the environmental impact is the removal of 3,189 metric tons of carbon dioxide.  This is the equivalent of 7,915,930 driven miles of gasoline usage saved for an average vehicle.
"Griggsville is our main feed facility, processing 350,000 tons of grain each year to feed roughly 25% of the 1.4 million market hogs and feeder pigs the company raises each year.  The mill is one of the company's most energy intensive operations and rising energy costs were something we could not absorb and remain profitable-and that was before 2022 when energy cost really took off.  We needed to do something" said Gerry Daignault, VP of Support Operations for The Maschhoff's.
"We've managed traditional energy commodity for The Maschhoff's for 7 or 8 years, but this feed mill is served by an electric co-op…not Ameren.  That presented its own set of challenges.  Our role as energy management experts is to solve for any and all energy challenges.  We are extremely honored with the trust The Maschhoff's place in us to bring them energy solutions" said Jeff Haarmann, Managing Director of AGE.  "The Maschhoff's are very progressive thinkers in the industry and this system is the first of its kind to serve a feed mill, a major consumer of energy."
AGE is an Illinois based energy management company and is part of Satori Enterprises and parent company, Texas based Priority Power.  For more information, please contact Jeff Haarmann, Managing Director, AGE at jeff.h@agellc.com or (6518) 204-0115.