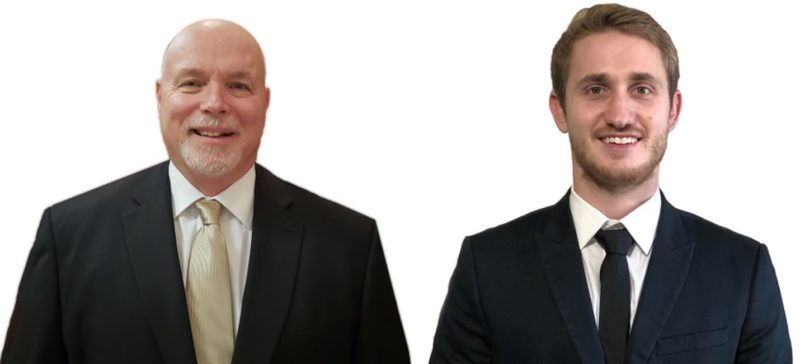 Affordable Gas + Electric, LLC (AGE) announced the addition of Ron Dell and Mason Tate to their team.  Dell will take on a role as Energy Consultant, based in the Metro East region of St. Louis.  Tate joins AGE as Director of Solar Development.
Ron Dell was formerly Mayor of Dupo, IL for 16 years.  He currently serves as EMT Instructor for Dupo CUSD #196 and as a Paramedic with the Dupo Fire and EMS.  In his role as Energy Consultant with AGE, Dell will work with local commercial and industrial customers to manage their overall electricity and natural gas expenses through rate negotiations, energy efficiency efforts and implementation of technological advances such as solar energy.
As Director of Solar Development, Mason Tate will work with AGE's operations team to analyze and design solar systems, primarily for public sector entities such as schools and local governmental bodies as well as larger commercial and industrial deployments.  Tate studied solar technology while attending Missouri University of Science and Technology.  As President of Summit Solar, Tate designed and installed one of the first solar systems in Jefferson County for Beau Brehm "L" Ranch.
"Ron and Mason will be super additions to our AGE team of professionals.  The Metro East is a significant area of emphasis for our core business of procuring and managing electricity supply for a wide range of commercial, industrial and public-sector customers" said Jeff Haarmann, Managing Partner of AGE.  "Ron knows the market well, knows the players and has already delivered huge savings to several commercial and industrial customers in that region."
"Mason is another great example of expanding our footprint to manage the entirety of our customer's electricity and natural gas budgets" added Haarmann.  "We have a very unique approach for school districts and public-sector customers to be able to adopt solar technology, today.  Mason's expertise in system design and system monitoring and management strengthens our efforts in solar deployment.  Mason's hiring, along with our recent addition of former School Superintendent Terry Milt and AGE veteran and certified Efficiency Auditor Bob Kelsheimer, positions us as the pre-eminent experts in school energy management."
AGE currently manages commercial and industrial electricity aggregations for 19 Chamber of Commerce and Associations as well as ISEM, the Illinois Schools Energy Management group.  Additionally, AGE manages 100 residential electricity aggregation programs as part of the Southern Illinois Aggregation Partnership (SIAP).
For more information, please contact Jeff Haarmann, Managing Partner of AGE at (618) 204-0115 or jhaarmann@supernovapartners.com.