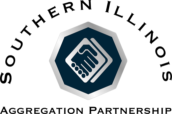 For nearly all Southern Illinois residential electricity customers in the Ameren utility area, long-term electric supply rate certainty has been secured through December of 2020.  Final rate negotiations concluded late last week and effectively extend the current residential electric aggregation programs that have delivered substantial savings since their inception.
With overwhelming approval of voters between 2012 and 2014, communities began negotiating residential bulk electricity supply rates.  To date, most residents have seen savings of up to 25% off Ameren's default supply rates, representing over $10 million dollars of real dollar savings for local residents.  The newly signed extension of contracts expiring in June and December of 2017 will insure a fixed rate for electricity supply through December 2020, providing rate certainty and likely continued substantial savings for the foreseeable future.
The contract extensions were negotiated by the Southern Illinois Aggregation Partnership (SIAP), a joint venture between Affordable Gas & Electric (AGE) and Select Energy Partners.  SIAP leveraged the bulk purchasing power of nearly 100 like-minded Southern Illinois communities, representing over 55,000 households and close to 70,000 electricity accounts.  The resulting rate extensions are a direct reflection of the combination of the smaller and larger communities combining to make an attractive package for suppliers to seek.
The contract extensions were awarded to Homefield Energy (Dynegy), a Collinsville based company, which owns the coal-fired power plants in Southern Illinois.
Communities such as Marion, Carbondale, Herrin and Murphysboro will see the newly secured rates effective in June 2017, while other communities such as Mt. Vernon, Nashville and Lawrenceville won't see the new rates until January 2018, when contracts in those communities are set to expire.
"The formation of the SIAP proved very effective during our negotiations.  For Homefield Energy, the opportunity to service the entire Southern Illinois region, was very attractive.  Southern Illinois collectively presents a unique combination of smaller rural communities with a mix of mid-sized more densely populated cities, providing both usage volume and household volume for suppliers to compete for" said Jeff Haarmann, Partner of SIAP.
For those communities who will see the new rates in June, residents will receive notification in April from Homefield Energy of the newly secured rate and term.  No action will be required to participate.  All eligible households will automatically continue to be enrolled in the respective city-wide rates.  Communities whose rates will expire at the end of 2017 won't see notice of the new rates until late Fall.  Again, no action will be required to participate in the aggregation program.
For more information regarding your specific community, please visit https://www.agellc.com/about-us/ or www.selectenergypartners.com/sep/electric-aggregation.