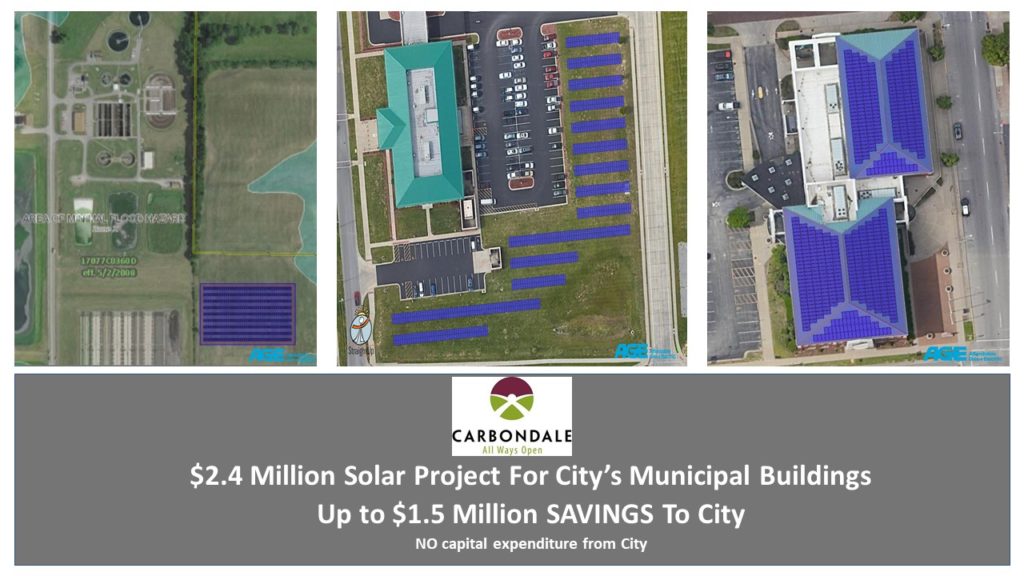 <Carbondale, IL> Reaching its goal of becoming a leader in sustainable energy, the City of Carbondale approved a PPA (Power Purchase Agreement) which will allow for the deployment of a $2.4M solar project which will power a portion of the City's municipal buildings.
"Our goal was to become a leader in the deployment of sustainable energy in the Southern Illinois region and with the approval of this power purchase agreement, we have a great starting point" said Carbondale's Mayor, John "Mike" Henry.  "The City will have zero capital outlay for this project and will see savings of up to $1.5M over the life of the PPA".
Affordable Gas + Electric (AGE), the City's energy management consultant, developed and administered a Request for Proposal to solicit offers from qualified providers.  The PPA allows for a third-party owner to construct, own and maintain the solar system and sell the power generated by the system to the City at a guaranteed rate.  Bids from 7 companies were accepted and reviewed with analysis and recommendations provided to the City by AGE.  StraightUp Solar, developer, and Hawk-Attollo, LLC, financier, were awarded the project which has rates "fixed" for the twenty-five-year life of the PPA agreement.  Estimates show savings could reach $1.5M over the life of the agreement.
Jeff Haarmann, Managing Partner of AGE, said "We congratulate the City of Carbondale on the awarding of this project.  Mayor Henry, Council and City Manager Gary Williams have demonstrated they can be leaders in sustainable energy and do so with economic benefits for their residents.  We are extremely pleased with the results and can't wait to see the panels begin to be installed."
Solar technology will be constructed on three sites including the SE Waste Water Treatment Plant, Public Safety Center and the Civic Center.  The three sites represent the most favorable economic benefit based on electricity usage, available land and roof space and other factors.  Additionally, all three sites are in the Ameren utility area which have the most favorable net metering rules.  Net metering rules allow the electricity produced from solar to be used in real time or put back on the Ameren grid resulting in credits that can be drawn on when solar energy is not being produced.
For further information regarding the City of Carbondale's solar project, please contact AGE's Managing Partner, Jeff Haarmann at (618) 204-0115 or jhaarmann@supernovapartners.com or contact City of Carbondale's Public Relations Officer, Roni Leforge, at 618-457-3229.