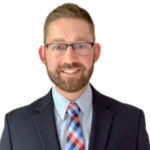 AGE proudly announces the addition of Ross Rubenacker to the firm. Ross joins the firm as an Energy Management Consultant focusing his time in business development of the Metro East St. Louis area as well as leveraging his extensive existing relationships in throughout Southern Illinois.
Ross comes to AGE with experience in commercial banking business development as well as experience in the insurance industry. Ross also worked as a consultant for a software company based in Houston, TX which dealt with the oil and gas industry.
A 2012 graduate of the University of Alabama, Ross graduated with a bachelor's degree in Operations Management. He is deeply involved in community efforts including his current seat on the Jefferson County Chamber of Commerce Board of Directors where he serves as Vice President of the Small Business Council. Ross also served on the Board of Directors of CASA of Jefferson County and is a current member of the Rome Grade School Foundation Board of Directors.
"Ross is an outstanding young man with incredible talents and someone who will serve our customers well; guiding them to energy management solutions that benefit their bottom line" said Jeff Haarmann, Managing Partner of AGE.
AGE is an energy management firm guiding commercial and industrial customers to independently analyzed and unbiased energy management solutions. AGE also represents nearly 130 community residential aggregation programs in Southern Illinois and Western Ohio.